Hey, all! In honor of this month's #AYEARATHON theme, I thought I'd talk about three of my all time favorite New Adult titles! I've talked about each of these books a ridiculous amount so I'll simply post a link to my review for each title so that you don't have to listen to my fangirl ramblings once again. I'd love to hear which NA you've been reading and loving - don't forget to leave your suggestions in the comment section!
Beautiful Disaster by Jamie McGuire
May 2011
319 pages
Amazon + Good Reads
My Review
Casting Call
"

The new Abby Abernathy is a good girl. She doesn't drink or swear, and she has the appropriate number of cardigans in her wardrobe. Abby believes she has enough distance from the darkness of her past, but when she arrives at college with her best friend, her path to a new beginning is quickly challenged by Eastern University's Walking One-Night Stand.
Travis Maddox, lean, cut, and covered in tattoos, is exactly what Abby needs—and wants—to avoid. He spends his nights winning money in a floating fight ring, and his days as the ultimate college campus charmer. Intrigued by Abby's resistance to his appeal, Travis tricks her into his daily life with a simple bet. If he loses, he must remain abstinent for a month. If Abby loses, she must live in Travis's apartment for the same amount of time. Either way, Travis has no idea that he has met his match."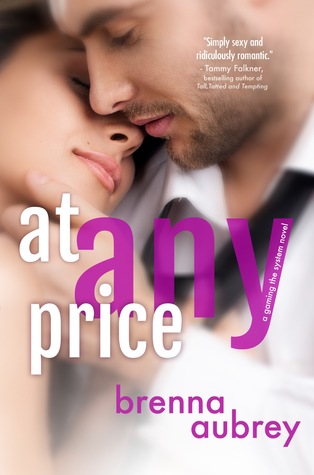 At Any Price by Brenna Aubry
December 2013 by Silver Griffon Associates
"
Achievement Unlocked: Geek Virgin
When Mia Strong, proud geek-girl and popular gaming blogger, auctions off her virginity online, she knows she'll make waves. But what she will not be making is a love connection. Her rules are set in stone: One night. No further contact.
It's a desperate step, but it's the only way she can go to medical school and pay her mother's mounting hospital bills.
Difficulty Level: Millionaire CEO
Adam Drake, the enigmatic auction winner, is a software prodigy who made his first million at seventeen. Now, in his mid-twenties, he's sexy, driven and--as CEO of his own gaming company--he's used to making the rules. Before Mia knows what's happening, he's found the loophole in the rules of her auction. Every stipulation she's made to protect her heart gets tossed by the wayside.
She can't tell if he's playing her...or if he's playing for keeps."
Gabriel's Inferno by Sylvain Reynard
April 2011 by Omnific Publishing
"
Enigmatic and sexy, Professor Gabriel Emerson is a well respected Dante specialist by day, but by night he devotes himself to an uninhibited life of pleasure. He uses his notorious good looks and sophisticated charm to gratify his every whim, but is secretly tortured by his dark past and consumed by the profound belief that he is beyond all hope of redemption.
When the sweet and innocent Julia Mitchell enrolls as his graduate student, his attraction and mysterious connection to her not only jeopardizes his career, but sends him on a journey in which his past and his present collide.
An intriguing and sinful exploration of seduction, forbidden love and redemption, "Gabriel's Inferno" is a captivating and wildly passionate tale of one man's escape from his own personal hell as he tries to earn the impossible...forgiveness and love."