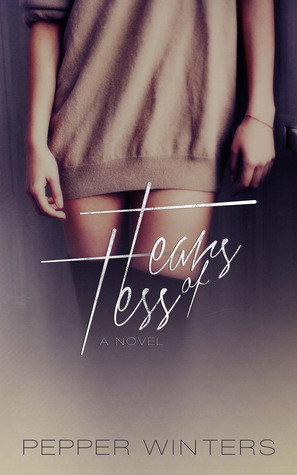 Tears of Tess by Pepper Winters
Received from NetGalley
August 2013 by Pepper Winters
376 pages
Amazon + Good Reads
"

A New Adult Dark Contemporary Romance, not suitable for people sensitive to grief, slavery, and nonconsensual sex. A story about finding love in the strangest of places, a will of iron that grows from necessity, and forgiveness that may not be enough.
"My life was complete. Happy, content, everything neat and perfect.
Then it all changed.
I was sold."
Tess Snow has everything she ever wanted: one more semester before a career in property development, a loving boyfriend, and a future dazzling bright with possibility.
For their two year anniversary, Brax surprises Tess with a romantic trip to Mexico. Sandy beaches, delicious cocktails, and soul-connecting sex set the mood for a wonderful holiday. With a full heart, and looking forward to a passion filled week, Tess is on top of the world.
But lusty paradise is shattered.
Kidnapped. Drugged. Stolen. Tess is forced into a world full of darkness and terror.
Captive and alone with no savior, no lover, no faith, no future, Tess evolves from terrified girl to fierce fighter. But no matter her strength, it can't save her from the horror of being sold.
Can Brax find Tess before she's broken and ruined, or will Tess's new owner change her life forever?"
Holy. Freaking. Crap.
I need the sequel... like, five minutes ago.
Okay, but seriously - I loved this book and while I was expecting to enjoy it, I never thought that I would enjoy as much as I did. I made the mistake of assuming that Tears of Tess would read like a "typical" New Adult book. That is - filled with characters who are emotionally unstable and who enter into a consensual relationship that is unhealthy and borderline abusive.
Yes, I hear you. Tears of Tess definitely fits that description... BUT Pepper Winters actually took the time to develop her characters. Q and Tess were both incredibly complex and jaded. They swung back and forth between different emotions, but the key difference between Tears of Tess and other NA titles was that I understood why they were feeling unsure. That's a rarity for me, at least in my limited experience with New Adult. Most characters come off as cardboard cut outs who are flat. Tess and Q were vivid.
I'd be remiss if I failed to mention the sex. Once again I say: holy freaking crap. I am a fan of erotica novels (judge me), and Tears of Tess did not disappoint. My experience with dom/sub and bondage stories begins and ends with Fifty Shades of Grey, so Tears of Tess was eye opening. Quite frankly, the sex scenes were shocking, gritty, and just down right HOT. Pepper Winters, again - props to you. I never cringed or felt embarrassed reading any of the scenes. (Bonus: never once were the words member, heat, "my sex," or dong used to describe genitalia. Tess ACTUALLY said vagina at one point! WHOOPIE!)
Overall, I just really loved the book. Tears of Tess felt like a breath of fresh air in a genre that cheapens traumatic experiences (like rape) and is populated by flat, cardboard characters. I never once felt that Winters was disrespectful to the trafficked women or exploited the scenario as a cheap plot point. I loved how fierce Tess was and by the end of the book, I felt as though I knew her and understood her motivations. I would recommend this book to anyone who enjoys erotic novels, particularly of the S&M persuasion.
Oh, and Q?
He is the hottest male MC I've read in a VERY long time.
My picks for Tess and Q...
Tess:
Emilie de Ravin
(Bonus points for picking an Aussie!)
Fiesty.
Q:
Joe Manganiello