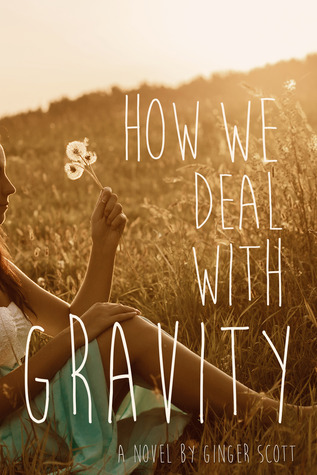 How We Deal with Gravity by Ginger Scott
Received from NetGalley
July 2014
244 pages
Amazon + Good Reads
"

When her son Max was diagnosed with autism, Avery Abbot's life changed forever. Her husband left, and her own dreams became a distant fantasy—always second to fighting never-ending battles to make sure Max was given opportunity, love and respect. Finding someone to fight along her side wasn't even on her list, and she'd come to terms with the fact that she could never be her own priority again.
But a familiar face walking into her life in the form of 25-year-old Mason Street had Avery's heart waging a war within. Mason was a failure. When he left his hometown five years ago, he was never coming back—it was only a matter of time before his records hit the billboard charts. Women, booze and rock-n-roll—that was it for him. But it seemed fate had a different plan in mind, and with a dropped record contract, little money and nowhere to go, Mason turned to the only family that ever made him feel home—the Abbots.
Avery loved Mason silently for years—until he broke her heart…completely. But time and life have a funny way of changing people, and sometimes second chances are there for a reason. Could this one save them both?"
I had a hard time with this book - meaning, I swung back and forth between loving and being apathetic with this story. At first glance, it's great. It follows two main characters; Avery is a 25 year old single mom of a little boy with Autism who is struggling to keep it together and Mason, a washed up musician who returns to his home town in shame after a failed career. With Avery and Mason's respective histories alone, there was a ton of plot that the author could have played with... but over all, it felt like much of the same stuff that you find in the Contemporary/New Adult genre, with nothing really special to set it apart.

Mason reads as the same old bad boy who tries to right his past wrongs to win the heart of the girl... And Avery is the quintessential NA girl. She's incredibly innocent and inevitably gets swept away by said bad boy. The two have an explosive relationship that heats up quickly and is filled with sexual tension... only to have it fall apart at the drop of a hat. And because I do read A LOT New Adult - these similarities were popping out at me all over the place.

But that isn't necessarily a bad thing. 

There were definitely aspects of the story that made How We Deal with Gravity unique from other NA titles. That is - a parental figure played an important role in the story, the female MC was a single mom (I have NEVER seen this before in NA), and the child had Autism*. But if you took out these three specific details, you could basically be reading Jet by Jay Crownover. 

Overall, it wasn't a bad story and I don't feel like I wasted my time by reading it. How We Deal with Gravity isn't the best NA/Contemporary that I've read, but it certainly isn't the worst. I will look for more titles by Ginger Scott in the future for sure! 

*The synopsis lead me to believe that this was a story specifically about Autism. Perhaps I interpreted it incorrectly, but this is largely a love story about two adults reconnecting. Sure, there is a character who has Autism but I don't think that it played as central of a role to the story as the synopsis led me to believe.