Hey, all.
Every Wednesday, I'm bringing you a new feature post on my blog - "Top 3 Wednesday." I'll compile a list of suggestions or books related to a theme, and I'd love to hear your responses too! If you have any thoughts as to lists that I can make, please let me know and as always, happy reading.
-Alyssa
Today I'm bringing you three popular YA series that I really didn't like. Don't burn me at the stake please.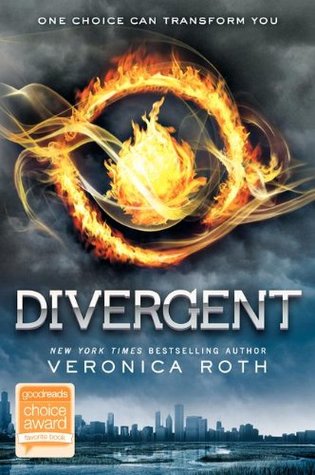 Divergent by Veronica Roth
Amazon + Good Reads
"

In Beatrice Prior's dystopian Chicago world, society is divided into five factions, each dedicated to the cultivation of a particular virtue—Candor (the honest), Abnegation (the selfless), Dauntless (the brave), Amity (the peaceful), and Erudite (the intelligent). On an appointed day of every year, all sixteen-year-olds must select the faction to which they will devote the rest of their lives. For Beatrice, the decision is between staying with her family and being who she really is—she can't have both. So she makes a choice that surprises everyone, including herself.
During the highly competitive initiation that follows, Beatrice renames herself Tris and struggles alongside her fellow initiates to live out the choice they have made. Together they must undergo extreme physical tests of endurance and intense psychological simulations, some with devastating consequences. As initiation transforms them all, Tris must determine who her friends really are—and where, exactly, a romance with a sometimes fascinating, sometimes exasperating boy fits into the life she's chosen. But Tris also has a secret, one she's kept hidden from everyone because she's been warned it can mean death. And as she discovers unrest and growing conflict that threaten to unravel her seemingly perfect society, she also learns that her secret might help her save those she loves . . . or it might destroy her.
Veronica Roth is the
New York Times
bestselling author of
Divergent
, the first in a trilogy of dystopian thrillers filled with electrifying decisions, heartbreaking betrayals, stunning consequences, and unexpected romance."
Maybe my timing was off with this book, but I read it and all I could think was, "Here we go. Another YA dystopian." Nothing about the story seemed new to me, and I was not impressed at all.
Shatter Me by Tahereh Mafi
I have a gift
I am a monster
I'm more than human
My touch is lethal
My touch is power
I am their weapon
I will fight back
Juliette hasn't touched anyone in exactly 264 days.
The last time she did, it was an accident, but The Reestablishment locked her up for murder. No one knows why Juliette's touch is fatal. As long as she doesn't hurt anyone else, no one really cares. The world is too busy crumbling to pieces to pay attention to a 17-year-old girl. Diseases are destroying the population, food is hard to find, birds don't fly anymore, and the clouds are the wrong color.
The Reestablishment said their way was the only way to fix things, so they threw Juliette in a cell. Now so many people are dead that the survivors are whispering war – and The Reestablishment has changed its mind. Maybe Juliette is more than a tortured soul stuffed into a poisonous body. Maybe she's exactly what they need right now.
Juliette has to make a choice: Be a weapon. Or be a warrior."
Hate is too strong of a word for Shatter Me, but I was seriously let down by the ending. Super heroes? Really? NEXT!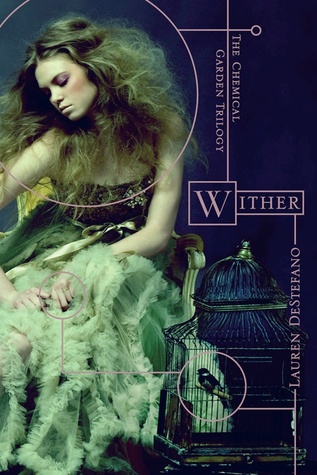 Wither by Lauren DeStefano
"

By age sixteen, Rhine Ellery has four years left to live. She can thank modern science for this genetic time bomb. A botched effort to create a perfect race has left all males with a lifespan of 25 years, and females with a lifespan of 20 years. Geneticists are seeking a miracle antidote to restore the human race, desperate orphans crowd the population, crime and poverty have skyrocketed, and young girls are being kidnapped and sold as polygamous brides to bear more children.

When Rhine is kidnapped and sold as a bride, she vows to do all she can to escape. Her husband, Linden, is hopelessly in love with her, and Rhine can't bring herself to hate him as much as she'd like to. He opens her to a magical world of wealth and illusion she never thought existed, and it almost makes it possible to ignore the clock ticking away her short life. But Rhine quickly learns that not everything in her new husband's strange world is what it seems. Her father-in-law, an eccentric doctor bent on finding the antidote, is hoarding corpses in the basement. Her fellow sister wives are to be trusted one day and feared the next, and Rhine is desperate to communicate to her twin brother that she is safe and alive. Will Rhine be able to escape--before her time runs out?

Together with one of Linden's servants, Gabriel, Rhine attempts to escape just before her seventeenth birthday. But in a world that continues to spiral into anarchy, is there any hope for freedom?
"
Most everything about this book rubbed me the wrong way: the characters, the mile wide plot holes. This book has an interesting premise but the execution left me wanting, big time.