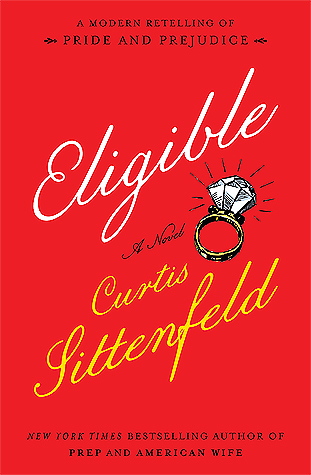 Eligible by Curtis Sittenfeld
April 2016 by Random House
492 pages
Amazon + Good Reads
"

A Modern Retelling of Pride and Prejudice
This version of the Bennet family—and Mr. Darcy—is one that you have and haven't met before: Liz is a magazine writer in her late thirties who, like her yoga instructor older sister, Jane, lives in New York City. When their father has a health scare, they return to their childhood home in Cincinnati to help—and discover that the sprawling Tudor they grew up in is crumbling and the family is in disarray.
Youngest sisters Kitty and Lydia are too busy with their CrossFit workouts and Paleo diets to get jobs. Mary, the middle sister, is earning her third online master's degree and barely leaves her room, except for those mysterious Tuesday-night outings she won't discuss. And Mrs. Bennet has one thing on her mind: how to marry off her daughters, especially as Jane's fortieth birthday fast approaches.
Enter Chip Bingley, a handsome new-in-town doctor who recently appeared on the juggernaut reality TV dating show Eligible. At a Fourth of July barbecue, Chip takes an immediate interest in Jane, but Chip's friend neurosurgeon Fitzwilliam Darcy reveals himself to Liz to be much less charming. . . .
And yet, first impressions can be deceiving."
-Good Reads
Would anyone be surprised to hear that I really loved this book? No? Okay, I didn't think so. I like to see myself as a minor league connoisseur of anything P&P related - spin offs, variations, retellings, movie adaptations... It makes me feel better about the depths of my obsession. So, when I first heard about Eligible, I immediately requested it from my library and anxiously awaited the arrival.
At 492 pages, Curtis Sittenfeld has given us a truly modern [and accurate] retelling of our beloved story. The events and plot of the original are faithfully adhered to, although the characters and circumstances of the relationships get a modern twist.
Sittenfeld did not have an easy task here - she had to translate 200 year old characters and their struggles into a current day climate that would convince the most staunch Austenite of her characters' validity. She did a fantastic job.
There's not much else that I can say. Eligible is true to the original and convincing as a modern story. I loved it thoroughly and found myself eagerly waiting to see what would happen next... despite the fact that I knew the general gist of the story.
If you are an avid fan of Pride and Prejudice, I highly recommend this retelling. Eligible is fresh and witty, and yet as charming as the story that we all fell in love with.