Consumed by Alycia Taylor
June 2014
81 pages
Amazon + Good Reads
Rating: 2/5 stars
"

I got a late start signing up for college and now all the dorms were filled. So I looked in the most logical spot for a place to stay, the newspaper. After finding an apartment with a guy that was supposedly an MMA fighter and only walking distance to the college, I sent first month's rent payment.
He seemed nice on the phone but when I showed up and knocked on the door I learned that I broke his number one rule, don't ever interrupt his "business". Will I be able to ignore the most popular guy on campus constantly hitting on me or will I give in and find that he's something more?"
Two stars - only because I managed to finish this novella.
Either Alycia Taylor is actually making an attempt at a new adult novella or she's created a hilarious spoof of the genre and has nailed every bad trope right on the head.
I really hope she is just messing with us.
None of the characters felt original - they were the same tired cliches that we always come across in the new adult genre. The main characters read as poorly written rip offs of Travis and Abby from Beautiful Disaster. There was no development or depth in either character and their dialogue was stilted at best.
The sole reason why I'm hoping that Taylor is spoofing the genre is her main male character, Braxton. Braxton is such an incredible f*cking douche bag that he makes Christian Grey seem like a generally okay guy. His internal and external dialogue was absolutely ridiculous (examples below) and he was written in such a way that I couldn't help but picture him as John Cena.
That alone makes me feel sick to my stomach.
Am I going to continue on with the series?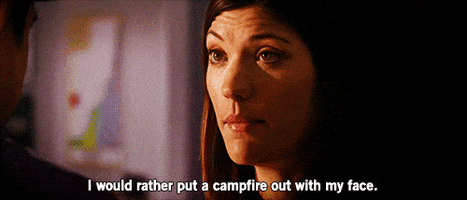 I wouldn't recommend this to anyone, despite the fact that it was free on Kindle. I'm also curious as to why so many people are giving it four and five star reviews. Really, people? There wasn't even a single sexy scene to make up for the lack of... well, story, plot, and character development.
And now, I will leave you with some of my favorite quotes.
"She was kind of an easy one as most girls were after they met me."
"She continued to probe my mouth with her out of control and sloppy tongue."
"She was probably a virgin, just how I like them."
"I hadn't cared to know anything about a girl for years. However, this time it was for selfish reasons so I could get her in bed."
"Her friend looked like she approved - if things worked out, maybe I could do her too."
And here's my favorite line of all...
"Mm... is all I could say about that."