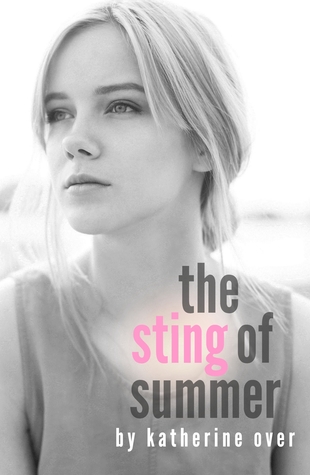 The Sting of Summer by Katherine Over
Sent for review from the author.
May 2014
246 pages
Amazon + Good Reads
"

Summer has arrived. For seventeen-year-old Becca, it marks the start of the wedding season. Her family operates an event venue in the form of a renovated barn, and nearly every weekend a wedding takes place in their backyard. Becca lends a helping hand for the accelerated schedule, but work is not the only task on her mind. Seth, her longtime crush, has nabbed a photography internship that requires wedding coverage, putting the two of them in close proximity. Becca intends to make Seth something more than a far-reaching fantasy, but it's hard to build a dream when a growing tension in her family life cannot be avoided.
Will Becca succeed in her quest for love?
Or will summer collide with her plans and leave nothing but a sting in her heart?"
FTC Disclaimer:
This book was sent to Alyssa for review from the author in exchange for an honest review. All opinions expressed are those of the reviewer and the reviewer alone.
First - I have to give a huge shout out to the author, Katherine Over, for contacting me and offering me a copy of her book in exchange for an honest review. I always appreciate when authors contact me - I've found some lovely stories that way!
With that said, I've got to say - The Sting of Summer was a wonderful story and has every element I look for in contemporary stories and proved to be a great summer read. As mentioned in the synopsis, The Sting of Summer follows seventeen year old Becca's summer as she works for her parents' wedding venue business and attempt to attract the attention of her long time crush, Seth. When I began the book, I was absolutely positive that I knew exactly how this story was going to go - at first, I thought it was set up as a "typical" contemporary YA. I was so sure that Becca was going to be burned by her crush and would have to find comfort in the arms of another. But...
I didn't give this book enough credit at first glance.
While Becca's romantic relationships do play a part in this book, they are not the main focus - which was so refreshing. Becca's story also centered around her own family issues and how the dynamics were changing. I enjoyed that Becca had the ability to put her romantic relationship issues on the back burner and focus her energy on the (serious) issues that should rightfully demand her focus. I cannot express how happy I was to read about a teenage female main character who is able to prioritize. That MC type is sadly lacking in this YA sub-genre.
I also enjoyed how realistic the romance was in The Sting of Summer. The relationships progressed at a pace that I felt was appropriate for seventeen year olds. There was never a moment where I had to suspend disbelief - there was no insta-love and the relationships were not overly dramatic or too intense. And again - I cannot state it enough - Becca was able to prioritize and did not lose herself in a romantic relationship. Thank you, Katherine Over! I haven't read a contemporary romance like this in a very, very long time.
It is also worth mentioning that the plot was not predictable - at all. More props to Over for not following the typical formula. I am not exaggerating in saying that I was 98% of the way through the book and I did not know how one of the plot lines was going to be resolved!
Overall, this book was simply lovely. I adore contemporary romance and The Sting of Summer stands out to me. I loved the characters: I enjoyed their growth and interactions. They were realistic in a way that I haven't seen in a long while. The plot explored family issues rather than focusing solely on romance, and successfully avoided becoming a tired and used story. And, hey - I loved this story... why don't you read it too? The author was kind enough to agree to provide a giveaway copy. All you need to do is enter in the Rafflecopter giveaway below.
Please check out The Sting of Summer if you're a fan of contemporary YA - indie authors and titles don't receive enough love!
-Alyssa
Katherine Over was kind enough to agree to host a giveaway! Enter below for the chance to win an e-copy of The Sting of Summer.