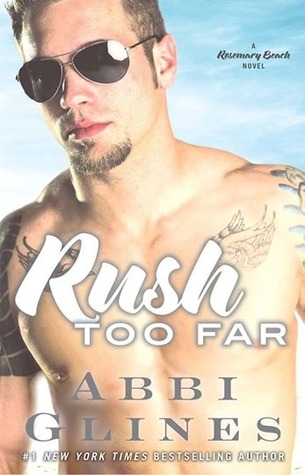 Rush Too Far (Rosemary Beach #1.1) by Abbi Glines
May 2014 by Simon & Schuster Audio
Review by Alyssa
*This audio book was sent to Alyssa for review by the publisher.
Amazon + Good Reads

"Everyone in Rosemary Beach thinks they know how Rush Finlay and Blaire Wynn fell in love. But Rush is back to tell his side of the story...
Rush has earned every bit of his bad-boy reputation. The three-story beach house, luxury car, and line of girls begging for time between his sheets are the envy of every guy in Rosemary Beach, and Rush handles it all with the laid-back cool of a rock star's son. All he needs are his best friend, Grant, and his sister, Nan.
Until Blaire Wynn drives into town in her beat-up pickup truck with a pistol under her seat. The Alabama farm girl instantly captures Rush's attention once he discovers that the angelic beauty is his new stepsister, but he vows to keep his distance. Even if she needs his help. Even if he craves her.
Because Rush knows why Blaire is all alone in the world, forced to ask for help from the father who abandoned her three years ago. And he knows if he gets too close it will destroy Nan, who has a secret connection to Blaire.
He has every reason in the world to stay away from her. Find out why he doesn't."
First and foremost, I have to give a huge shout out to Simon & Schuster audio for sending me this book - since I've started accepting audio books for review, my entire view on them has changed. I love audio books - they make my daily commutes (and not so daily commutes - more on this later) enjoyable.
That being said... I loved Rush Too Far. Now, this book is #1.1 in the Rosemary Beach series which means that it's a companion novel to the first book, Fallen Too Far. In Fallen Too Far, we are told the story through the main female character, Blaire's, perspective. Rush Too Far is (I assume) the exact same story but through Rush's eyes. Think Beautiful Disaster and Walking Disaster. I haven't read Fallen Too Far but I think that shows just how awesome of a story this is - I didn't need the "original" first book in the series to completely fall in love with Rush and Blaire's story.
But before I get ahead of myself, let's talk about what Rush Too Far is about. Rush Finlay is the quintessential New Adult bad boy - his father is a member of a famous rock band, Rush has tattoos and piercings almost everywhere, and he has a totally expendable income... which basically means that his life is the playboy kind of life. Rush has a constant and consistent revolving door of beautiful women to have one night stands with and he wants for absolutely nothing. But (and there's always a but, isn't there?) when Blaire Wynn shows up at his door, his entire world is thrown up into the air. You see, Blaire is intimately tied to Rush's family and life in a pretty terrible way... and she kind of, sort of represents the reason why Rush's home life is so chaotic. Naturally, the two immediately fall for each other.
Rush Too Far is pretty standard as far as New Adult books go. Blaire and Rush's relationship is nothing that I haven't seen before in the New Adult genre - it is filled with steamy and explosive sexual tension and enough drama to put ABC Family shows to shame. Naturally, I loved almost every minute of it. I enjoyed the push and pull that existed between Blaire and Rush. I enjoyed being inside of Rush's head during the story as well. I typically do not enjoy NA books that take place in a male's POV and I think it's because most (not all, I'm sure) NA is written by women and I can always tell that it was written by a woman. However, I'm quickly coming to understand that Abbi Glines has a knack for writing in the male POV because of how convincing her characters are.
But I did have a few issues with Rush Too Far. Like I said, I have not read Fallen Too Far so I have no idea what sort of insight Blaire's story brings to the table. I do think that I will have to read it though, because I am hoping that Blaire's side of the story will clear up the few issues that I had with Rush Too Far. My biggest issue with the story was the lack of relationship development between Rush and Blaire. Most of the time, Rush was inside his own head and his actual interactions with Blaire were minimal at best. Rush sure spent a lot of time observing Blaire and analyzing what little contact they had to pieces... but I couldn't figure out how Rush fell for Blaire so quickly and so intensely. He seemed to go from hating Blaire's very existence to wanting to spend the rest of forever with her after only a few sexually charged conversations.
If I had been reading this kind of relationship in any other genre, I don't think that I could get past it... but because Rush Too Far is NA, I dismissed it as minor plot flaw and moved on.
And by moved on, I mean that I listened to five hours of the book (it's around six hours total) in
one
sitting. If that doesn't demonstrate how quickly I became hooked onto this book, I don't know what will.
All things considered, I would recommend Rush Too Far to any New Adult lover. And, while you're at it, you may as well pick up anything else that Abbi Glines has written because I think that you'll enjoy it too. I've already finished Never Too Far (Rosemary Beach #2), and I'm going to pick up Forever Too Far (Rosemary Beach #3) as soon as I'm finished typing up this review. I loved this book and I'm beginning to love this series... If you'd like me to review the rest of the books in Rush and Blaire's story, let me know. I'm sure I'll be finished with them by the time this week is over.
Let me know which New Adult titles you've been picking up and whether you've read anything by Abbi Glines before!
-Alyssa